What Sold, Who Bought & Who Didn't in 2015? What's Ahead for 2016?
Published: February 26, 2016
The North Okanagan real estate market ended 2015 on a low note. Here's an overview of what sold, who bought and who didn't buy in 2015 – and what's ahead for 2016.
North Okanagan Real Estate Sales and Listing Statistics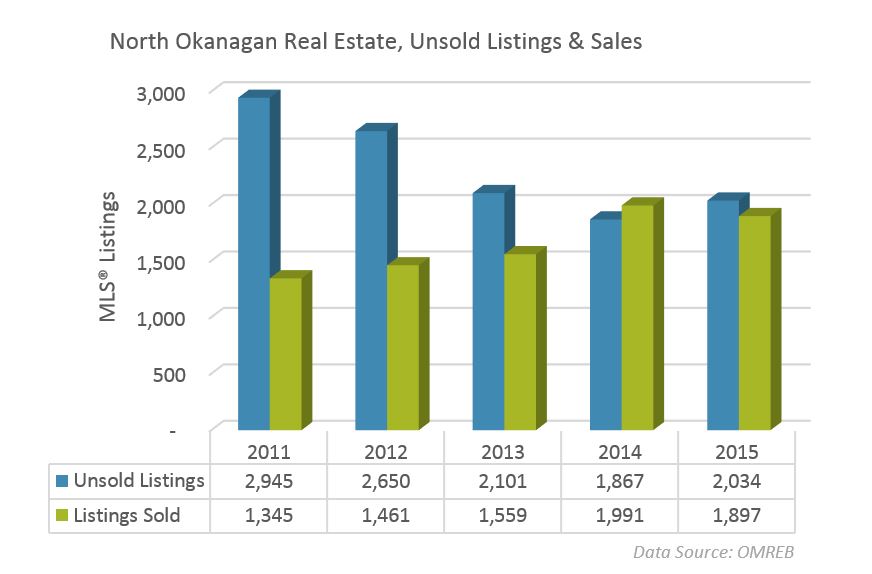 Multiple Listing Service (MLS) sales in our zone were 4.7% lower in 2015 compared to 2014 – that means 94 fewer real estate sales in the area stretching from Predator Ridge north to Enderby.
If we compare only the last month of the year, property sales in December 2015 were a whopping 23% lower compared to December 2014! 
Chris Miller, President of the Okanagan Mainline Real Estate Board (OMREB) recently stated, "The North Okanagan has edged lower largely as the result of a weaker Alberta economy."
Who Bought Real Estate and What Did They Buy?
Our largest buyer group in the North Okanagan is still from the local area; they represent 57% of the all real estate purchases! Alberta buyers are our second largest buyer group; they have represented roughly 15% of the market over the past 5 years. Approximately 10% of our buyers are from Vancouver and the Lower Mainland, another 8% are from other areas within BC, and 8% are from areas across Saskatchewan, Eastern and Northern Canada. Despite our lower Canadian dollar, less than 2% of our buyers are from outside Canada.  Here is how that look on a chart.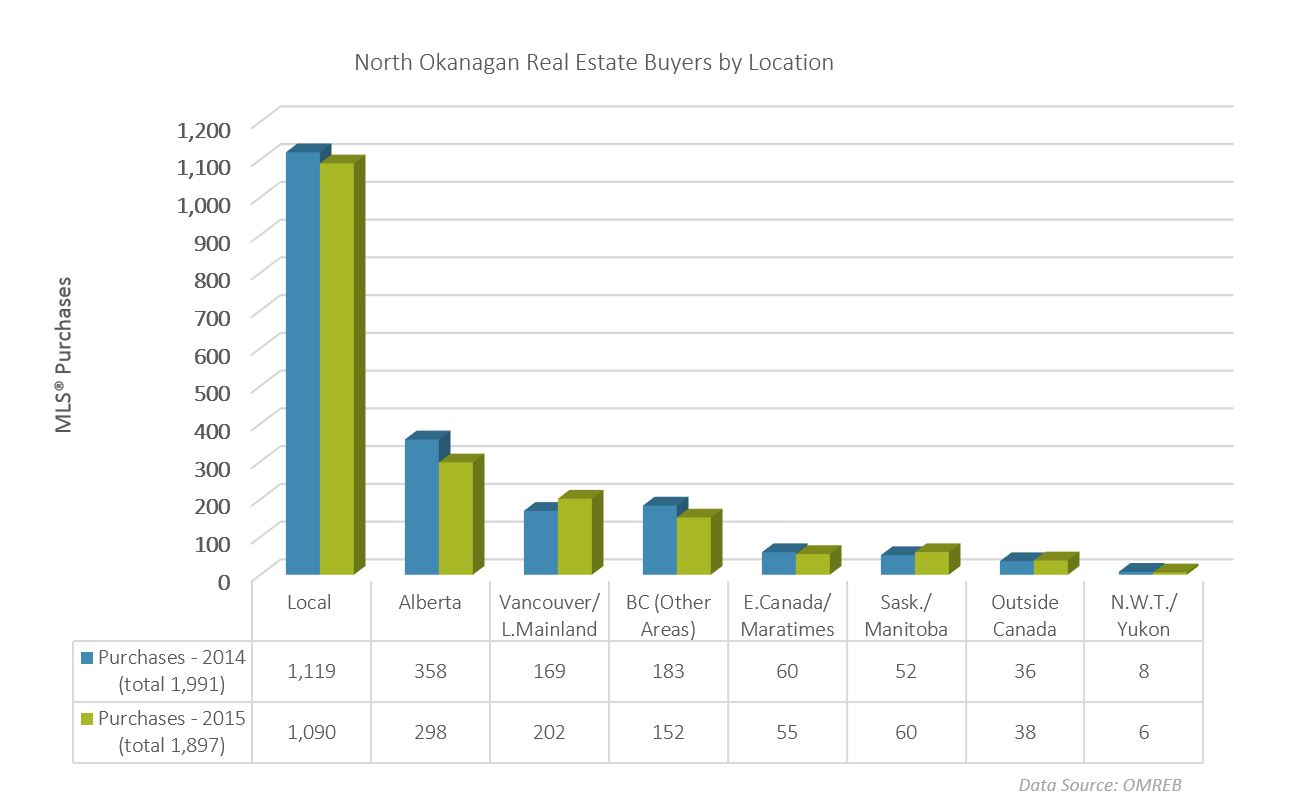 When we look at what kind of property these buyers were purchasing, single family homes still represent the majority of sales; but we did see a nice increase in the sales of homes and acreages during 2015. We were also encouraged to see some growth in commercial activity! We consider this to be a good indicator that investors and business have confidence in our area and the economy.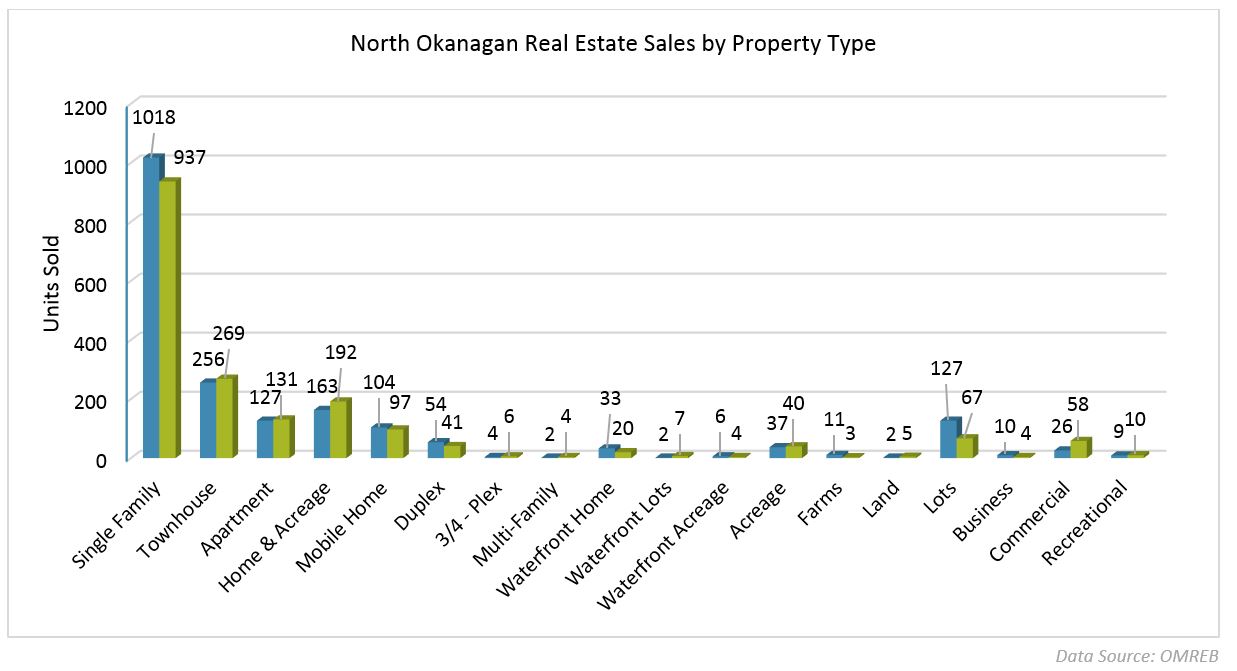 What We Learned From Buyers …and From Those Who Are Still Shopping
It's always interesting listening to what our Buyers want and expect! Most Buyers from outside the North Okanagan researched our area on the web and had many discussions with us before they arrived in town with a list of selected homes they hoped to view. Most Buyers found ideal homes and happily got themselves settled! But what about those that didn't buy or didn't come to view after researching? We did see some disappointments.
Some out of town Buyers were surprised they could not replace what they sold elsewhere with a similar home here in the North Okanagan. Some Buyers coming from larger centers expected our prices would be much lower and many assumed they could still find inexpensive small acreages close to town.
We found that many affluent Buyers were looking for luxury homes located in equally affluent neighbors located in communities with a larger variety of amenities and services than were available in smaller North Okanagan communities. Many of these Buyers passed us by and continued their search in Kelowna.
Local, price-sensitive, first time Buyers shopped for homes and struggled to find homes within their price range that would not also require major expenditures in the first few years. Newer townhomes were an option, but many of today's first time Buyers wanted, and needed, more yard space for children and pets – and additional parking for vehicles and toys. First-time Buyers represent approximately 19% of the market.
Investors took serious interest in multi-family buildings as interest rates remained low and the demand for rentals remained high. Homes with suites were also in high demand, but the legality of the suites and often a lack of compliance with building standards made financing difficult. Most lenders qualify borrowers using potentially uncertain income from by an illegal suite.
We had numerous requests from retired Buyers seeking upscale strata with amenities and a sense of community. We also worked with young professionals interested in upscale, downtown living. Sadly, again, Kelowna offered more choices!
Key Factors that Impacted Our Real Estate Market
Alberta's Weaker Economy
The Canada Mortgage and Housing Corporation (CMHC) released its first quarter 2016 report indicating, '…strong overall evidence of problematic conditions in Calgary, Saskatoon, and Regina due to the detection of overvaluation and overbuilding. Low oil prices are impacting Alberta and Saskatchewan, weakening demographic and economic fundamentals such as migration, employment, and income, which are in turn affecting housing markets.' Calgary's home prices dropped over the last quarter of 2015, but not so dramatically as to reflect the region's weakened economy and rising vacancy rates. Edmonton ended the year in a better position than Calgary, with only a moderate oversupply of unsold condos and vacant apartments. We suspect the next quarter report will be much gloomier in these metropolitan centers as news of job losses and company closures continues. We are monitoring the impact this is having here in the North Okanagan and Shuswap.
Vancouver's Booming Real Estate Market
In 2015 the Greater Vancouver Real Estate Board (GVREB) reported their highest recorded sales in history! 33,116 homes changed ownership in 2014 and that number rose to 42,236 in 2015. Despite below average inventory buyers just kept buying! GVREB experienced 4 straight months where more than 4,000 homes sold in the Metro Vancouver zone! It was more than just a 'seller's market' with double-digit price increases ranging from 14 – 28%, depending on the type of property! In Metro Vancouver the benchmark price increased by 18.9% for all MLS® listed residential properties. Let's put that in perspective – a property valued at $700,000 may suddenly sell for $825,000. Sounds great, except those Buyers needs to buy again quickly or be left out in a rising market. Despite being one of Canada's most expensive real estate markets, CMHC noted in their 2015 fourth quarter report that Vancouver remains at low risk of a correction.
What Does Our Crystal Ball Show for 2016?
We do expect more interest from the lower mainland as buyers realize high prices! We anticipate there may be an exodus from Fort McMurray and other resource-based communities, but perhaps not as luxury vacation home Buyers like we've seen in the past. Instead, we anticipate Buyers relocating to the area. These Buyers moved to these resource-based communities for the long haul and now after many productive years they are evaluating this lull in the market as a good time to move on.
Out of country Buyers represented only 2% of our market (35-40 Buyers), but if our Canadian dollars remains low over an extended period of time we may see more international buyers take notice in the area.
On February 15, the Federal Government's new graduated minimum down payment requirement took effect. It will increased the required down payment for new insured mortgages over $500,000. Its purpose, to maintain a healthy and stable housing market. In Vancouver we heard reports of a 'last minute run' by first-time buyers trying to get into the market before the February deadline. Locally, we weren't as impacted as our entry level home prices are considerably lower.
January and February were pleasantly busy; we are cautiously saying it's a reflection of what's ahead for 2016. As Vernon, Salmon Arm and surrounding communities grow and offer more services and job opportunities, we will be discovered and for many become equally or more attractive than the Kelowna area.
About Priscilla & Company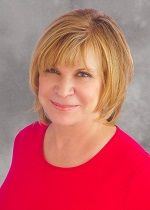 Priscilla & Company have marketed and sold more than 2,000 properties across the North Okanagan and Shuswap. As the top real estate team at RE/MAX Vernon for the past 25 years, Priscilla & Company's expertise encompasses every price range and neighborhood across the Okanagan ans Shuswap; lakeshore and waterfront estate, retirement and family homes, condos and townhomes, new construction, developments, lots and acreages, farms and ranches, Silver Star Mountain and golf resort homes, commercial and investment.