Vernon – Commercial Real Estate Update
Published: April 6, 2016
Commercial construction in Vernon is booming. How exciting! 2015 was the second strongest year on record for commercial construction with $110 million in building permits. Canadian Tire holds a permit worth $2.4 million dollars for its renovations at the Village Green Centre. The biggest permit of the year goes to BC Hydro. You've probably noticed the new 120,000 square foot BC Hydro regional operation facility out by Polson Mall and Kal Tire, with a $23 million building permit.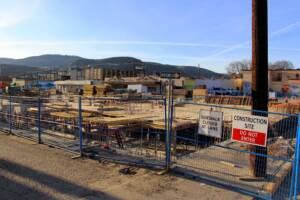 More exciting news, in March, Interior Health announced they would begin construction on 'The Hamlets'. A 'ground-breaking' project that will support seniors throughout the North Okanagan with a planned opening scheduled for July 2017. Located one block of main street at 3050 29 Street.
The Hamlets offers a urban residential community, assisted living, adult day care programs and residential care services all under one roof! It will feature 85 publicly-funded and 15 private pay residential complex care beds and 53 private pay assisted living beds – with retail space on the main level to cater to the needs of the building tenants. It's a village!